For the team at Total Living Concepts, the idea of giving back comes easy. Every year, they participate in events, volunteer work, make donations and provide sponsorships, that help support the local communities. 
Glen Prairie, of Total Living Concepts has proudly been a member of The Rotary Club of Barrie Huronia since 2004. Erin Tribe, one of our designers, is also a new member of The Rotary Club of Barrie-Huronia.  Glen Prairie participates in all the events, either by donation or through volunteering. The Barrie-Huronia branch hosts several main events throughout the year and hands out more than 70 Christmas hampers to help families during the holidays.
Recently, Total Living Concepts registered two teams in the Matt Belesky (MB9) Golf Tournament. This tournament helps to raise funds to provide support for other projects, charities and organizations in the community. It was a great day of fun and fundraising for the Total Living Concepts teams. 
Helping organizations through event participation and volunteer work is not the only way the team at Total Living Concepts gives back. They also host their own events that support local organizations like Habitat for Humanity. This group provides struggling families the opportunity to not only own a home but help build it as well.
Total Living Concepts has hosted a garage sale during the summer, with all unsold products going straight to Habitat for Humanity. All families deserve a home to grow, learn and play. The team at Total Living Concepts believes that every dollar they raise counts as a big step towards another family having a healthy space to thrive. For more information on Habitat for Humanity, please visit www.habitathuronia.com.
A safe place to call home is only one aspect of need in the community. Support for people and families impacted by Cancer is another area that the Total Living Concepts team has been involved in. Gilda's Club Simcoe Muskoka is a local group that provides free support and services for exactly that. Their goal is to "ensure all people impacted by cancer are empowered by knowledge, strengthened by action and sustained by community."
Recently, Total Living Concepts supported this group by partnering with a vendor to supply cabinetry and products at a discounted rate for the Red Door staff kitchen area, resident's kitchen (Bottom Image) and children's room mini-kitchen (Top Image). 
For more information on Gilda's Club, visit their website at https://gildasclubsimcoemuskoka.org/
The Total Living Concepts team also proudly supports groups who provide a leg up for our most vulnerable members of society, our youth. Big Brother Big Sisters matches youth who face mental health challenges, family violence, identity issues and poor living conditions, with an adult mentor who provides support and confidence.  
The Showcase of Homes is an annual fundraising event that Total Living Concepts participates in through advertising in it's tour book. It is a self-guided tour of 6 homes in the community, and it has been running for over 30 years. "This event helps serve little brothers and little sisters through our mentoring programs, matching them to caring adult mentors." 
For more information on the Showcase of Homes or Big Brothers Big Sisters, visit their website at barrie.bigbrothersbigsisters.ca.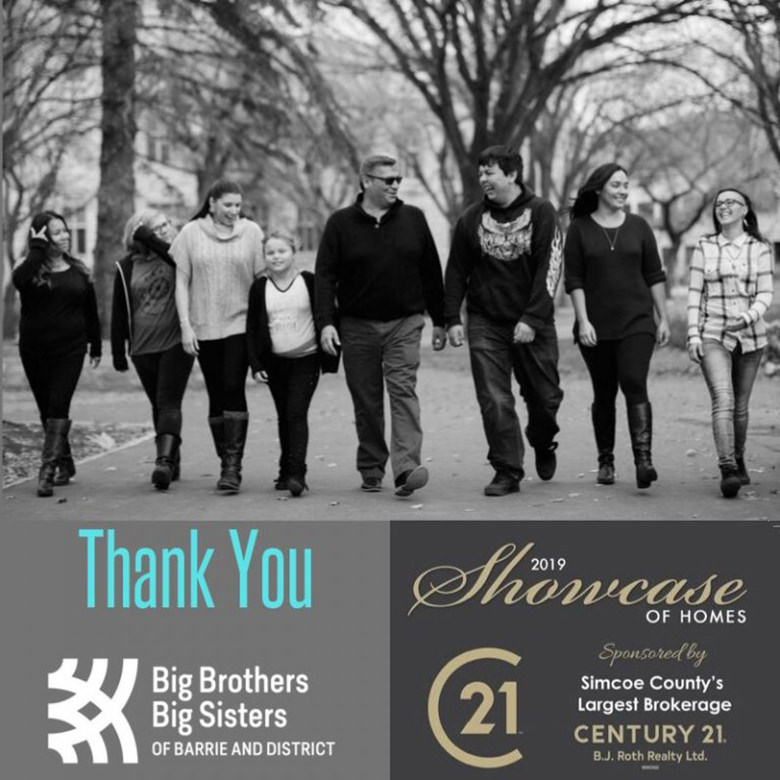 Another amazing organization that Total Living Concepts supports is The May Court Club of Barrie. Since 1970, The May Club has been helping women, children and the elderly in the community. The May Club has put in more than 15,000 hours of volunteer work and their fundraising efforts have raised over $2,500,000 for the Barrie area. 
Every year the May Court Club hosts a self-guided tour event called 'Homes for the Holidays'; 5 homes are professionally decorated for the tour. This event raises funds by allowing businesses to purchase advertising space in their tour booklet and sponsorship of the event. 100% of the proceeds go towards charitable needs in the community. The next one is November 16th and 17th! Check out The May Court Club of Barrie for more information.
This year (2019) Total Living Concepts has begun supporting the local performing arts theatre, "Theatre by the Bay". This theatre empowers local artists, engages local audiences with high quality programming, and tells stories that engage the diverse people of Barrie and Central Ontario. Check out their website here https://theatrebythebay.com/ where we are listed as a supporting sponsor. 
The team at Total Living Concepts will continue to do their part to help their communities and neighbours. Every dollar counts! For Total Living Concepts, knowing that even the smallest effort can make a big impact, is all they need to keep going. As long as their communities, neighbours, friends and families need help, they will keep supporting local organizations that aim to make their slice of Ontario a better place.